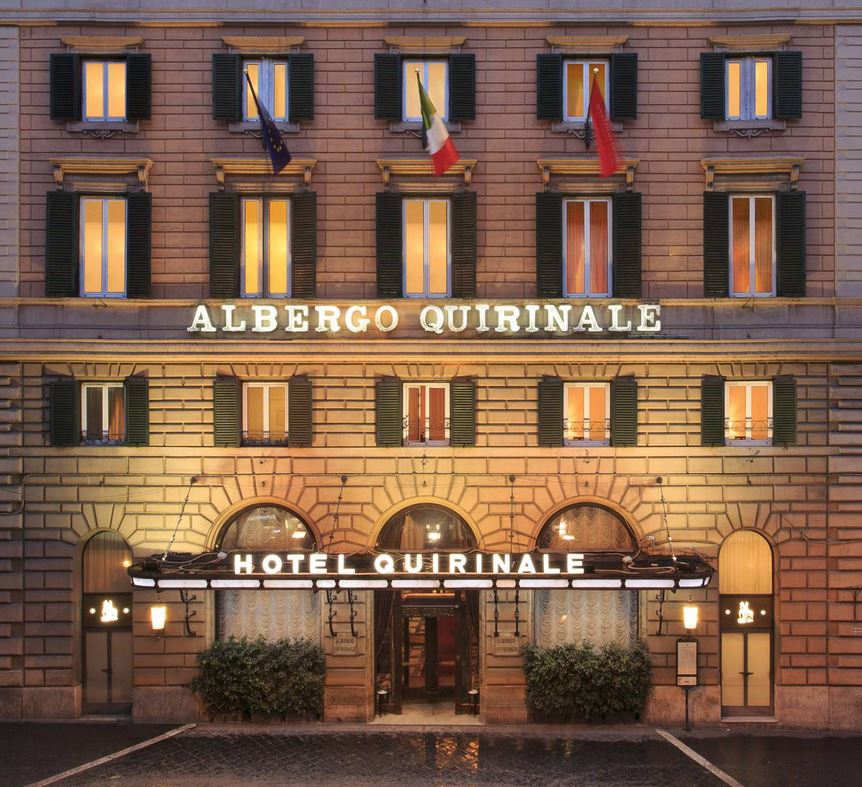 The 6th PIAAC International Conference will take place at the Hotel Quirinale.
Hotel Quirinale: 4 STELLE
The Hotel Quirinale offers all guests an unforgettable four star Roman vacation in the very heart of Rome. The elegance and charm is befitting an hotel surrounded by the Piazza della Repubblica, Piazza Venezia and the Trevi Fountain. Each room is decorated with period furniture and equipped with every modern luxury. The excellent service and hospitality of the Hotel Quirinale welcomes tourists, families and business travellers with efficiency, ease and style. Guests can enjoy the elegant restaurant, cosy bar, private garden, exclusive fitness facilities as well as conference rooms that can be tailored to the needs of business meetings, wedding banquets and industry conventions.
Other accommodation near the conference venue
Hotel Marco Polo: 3 STELLE
Hotel Marco Polo is a 3 star hotel situated in the heart of the historical centre of Rome, just a short walk from Termini Station. This quiet and relaxing establishment shows great attention to detail and our staff is available to offer you suggestions and tips for your staying in Rome. All rooms (recently renovated) are stylish, offering a refined elegance and surprising comfort.
Hotel Trinita dei Monti: 3 STELLE
Hotel Trinità Dei Monti  is a 3 star hotel, strategically located 50 meters away from the Spanish Steps, in the heart of the Roman historic center. Here you can find kind hospitality and comfort just around the corner from Veneto street and Trevi fountain. All the rooms offer a private bathroom, telephone, TV, Mini Bar, air conditioning, safe deposit-box and free WiFi access.
Hotel Priscilla: 3 STELLE
Hotel Priscilla is a welcoming 3 star hotel in the historic centre of Rome. The strengths of the Hotel Priscilla are definitely the warm and familiar atmosphere that guarantees a nice and kind service. The restaurant Taverna Priscilla is always available to our guests for dinner.
Hotel Principessa Isabella: 4 STELLE
The Hotel Principessa Isabella is a 4 star refined, quiet and high-class hotel: located in the heart of Rome but in a calm street far away from the traffic. Accurately decorated, you can find here elegance and traditional style, joined together with every possible modern comfort. Near the most beautiful monuments of the capital, perfect point in order to reach every place in the city.
Hotel Morpheus: 3 STELLE
The New Morpheus Rooms is an extraordinary compromise of pragmatism and elegance in the centre of Rome. Easily reachable on foot or by Subway (Repubblica Metro Station), thanks to his central position and his proximity with Termini main station, will be very easy to reach all the point of major interest of the city and monuments. The rooms are all furnished in perfect and comfortable minimal style, including: private bathroom, safe box, TV, writing desk, minibar, air conditioning and reception 24h.
Hotel Imperiale: 4 STELLE
Hotel Imperiale is set in a 19th-century building, decorated with marble interiors, on Rome's Via Veneto (close to Barberini Metro Station). Is located near the city's main historical attractions, surrounded by statues, fountains and centuries-old buildings. All suites  combine contemporary interiors with original architectural features, they are luxurious and decorated with fine fabrics.
Hotel Alpi: 4 STELLE
Hotel Alpi is in the centre of Rome, an easy walk from the Rome Termini station, 400 metres away, ideal place, whether you are arriving by train or by plane or car. Located in a characteristic Art Nouveau building built in 1870, it is a precious jewel in the Liberty style, a setting of absolute elegance.
Hotel Pace Helvezia: 4 STELLE
Located just in front of Piazza Venezia, Hotel Pace Helvezia offers a sober and elegant atmosphere. One of the charming characteristics of the hotel is the wonderful panoramic terrace which dominates the historical center of Rome. Each floor is served by an elevator. A sumptuous and rich buffet breakfast is served in a charming breakfast room. A car park is available near to the hotel.            
Hotel Siviglia: 3 STELLE
The 3 stars Hotel Siviglia has a very good position in the hearth of Rome, very close to Repubblica Square, where it's possible to admire the beautiful Naiadi's fountain, and to Via Nazionale, one of the most famous shopping streets of Rome. The hotel offers wi-fi free, breakfast room, bar and open-air parking (on payment).
Hotel Planet: 2 STELLE
The Hotel Planet Rome is a budget 2 star accommodation in the centre of the city, on the doorstep of Termini Station, the central hub of city transportation. From Termini, all the premier attractions of Rome are within reach, whether by foot, bus, or underground metro. The hotel offers clean and comfortable rooms, with bathrooms, television, phone, and air-conditioning.